Artist Training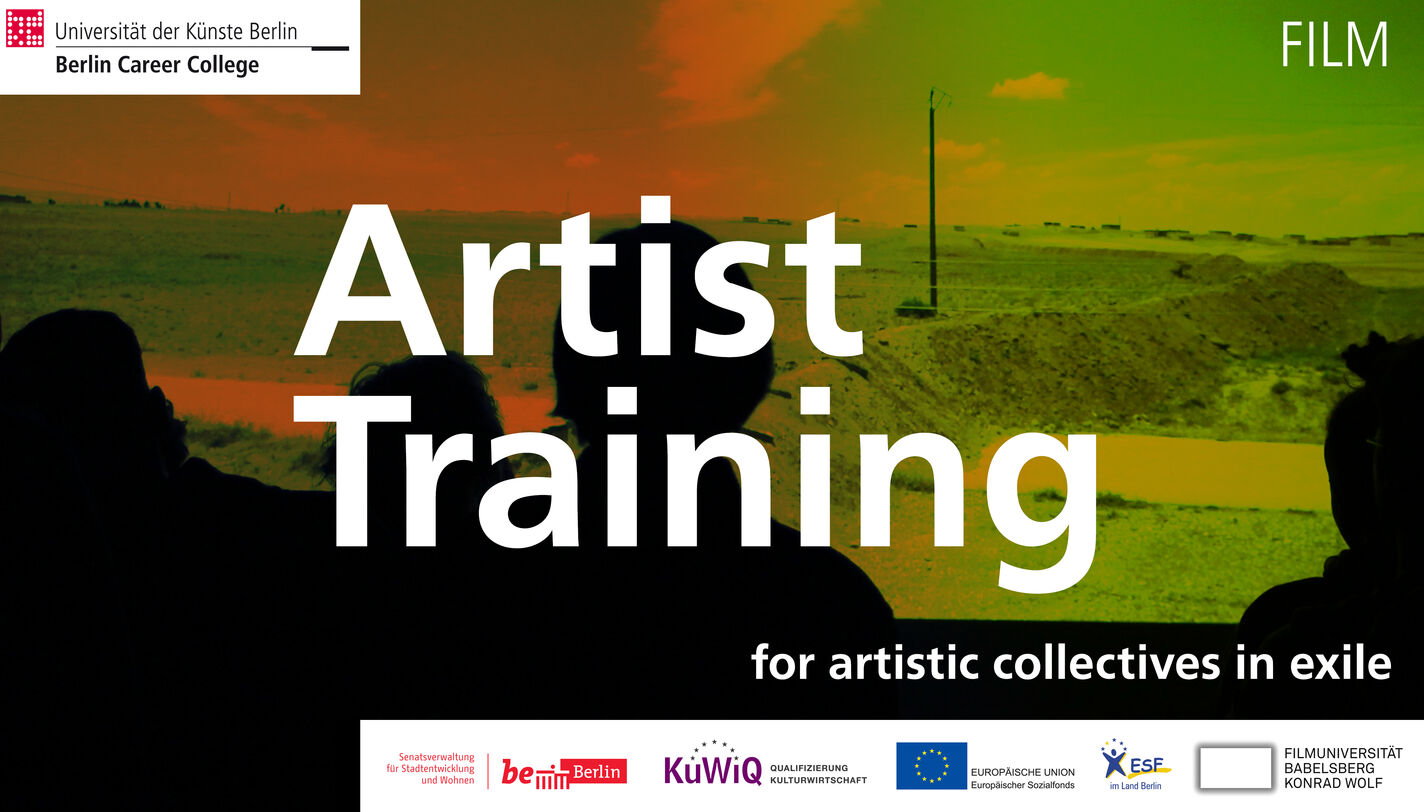 The project ARTIST TRAINING is a qualification programme offered by the UdK Berlin Career College aiming at the qualification, consulting, and networking of artists in exile. The goals are networking with the Berlin cultural and creative industries by getting to know the institutions and their employees, the establishment on the Berlin labour market and the strategic positioning in the respective artistic orientation.
The new project Artist Training ARTISTIC COLLECTIVES is a qualification programme for five artist collectives from the sectors of music, fine arts, performing arts, film, and an interdisciplinary working group. Artist Training offers a support for five months with a full programme: a training unit consisting of 30 hours with monthly workshops according to individual goals, two individual consultations, the presentation of artistic work at a venue and the exchange among all groups. In addition, the Digital BASICS convey basic topics of self-employment with two hours of online teaching and 12 hours of in-depth workshops.
Information on FILM COLLECTIVES I
Application & Requirements
APPLICANT REQUIREMENTS
The Artist Training project is open to professional artists in exile living in Berlin.
One can apply as a group of five with one film related project, which can be a film or a concept for a festival, award, education program, etc.
Applicants/collectives are required to present their project in a 3-5 page exposé with a rough timeline and needs for support over the next six months.
SELECTION CRITERIA
Artist Training seeks artistic groups with a clear vision and need for professional support and consultation within the next six months.
Artist Training is interested in proposals that have the potential to achieve a result which can be presented in public.
APPLICATION PROCESS
Every member of the collective has to register with:
Curriculum vitae incl. filmography (max. two pages).
A 3-5 page exposé of your project and a list of professional support needed to realize the concept.
Links to two or three films or projects representing your artistic approach.
Please register with your personal data, three attachments and the name of your
What we provide
30 hours of training units with film experts, i.e. (online) workshops, individual consulting and networking from July to December 2020 (first meeting: 15 July from 9 am to 1 pm at Film University Babelsberg).
One-on-one consultation session based on your personal goals.
A public screening/presentation at Wolf Kino on 25 November 2020 (to be confirmed).
Promotion of the artistic work.
Contact